In October 2023, the HFPN launched the European Heart Failure Mission Statement at the European Parliament. The Statement calls on the European Union to use their full competences in health to address heart failure. This sets the groundwork for an impactful multi-year campaign to increase political recognition and investment for heart failure from the European Union (EU).
Over 50 clinical, patient, political and industry representatives from 15 European countries participated in this event. It was the largest gathering of the heart failure community at the European Parliament since 2016, showcasing firm commitment to improving the lives of people with heart failure.
So, what did we learn from this launch?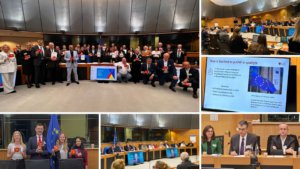 The need is real and the time is right to address heart failure
In his keynote address, Tánaiste of Ireland (Deputy Head of Government) Micheál Martin stressed how the EU must act now on heart failure to ensure the future sustainability of Europe. He emphasised the opportunity to improve life expectancy, enhance quality of life and achieve the United Nations Sustainable Development Goal 3.4 of reducing premature mortality from non-communicable diseases.
You can watch Micheál Martin's speech on the HFPN YouTube channel.
Involvement of people living with heart failure must become a central part of policy development
The importance of participation from people with heart failure in developing policy and improving care was made clear during the launch event. Aistė Štaraitė, Chair of the Global Heart Hub Heart Failure Patient Council, presented the Global Heart Hub's Heart Failure Patient & Caregiver Charter as a tangible example. This outlines the importance of giving people living with heart failure the opportunity to act as equal stakeholders in government-funded research for developing policies for heart failure care.
Heart failure needs to be promoted in calls for an EU Cardiovascular Health Plan
It became clear during the launch event that calls for an EU Cardiovascular Health Plan are growing stronger, with an increasing number of European policymakers becoming aware of this movement. Heart failure advocates need to further advance the cause with policymakers, making clear the burden of living with heart failure. Advocates must also urge for an EU Cardiovascular Health Plan that includes a section specific to heart failure, to ensure that it is given the attention it needs. These sentiments were reiterated during the event in a powerful presentation delivered by Professor Francesco Cosentino (Chair of European Society of Cardiology Advocacy Committee; former Vice-President, European Society of Cardiology).
Investing in research on innovative technologies for heart failure is a key opportunity for the EU
Innovative approaches to the diagnosis and care of heart failure, such as precision medicine and genetic testing, are continuing to emerge. These developments present a significant opportunity to not just tackle the symptoms of heart failure, but also address its root causes. However, to unlock the full potential of such technologies, the EU needs to increase funding for heart failure research. This would support building a more comprehensive understanding of the condition's underlying causes and maximise the potential for innovations to improve outcomes for people living with heart failure. During the launch event, Dr Fergal Donnelly (Principal Scientific Officer, Directorate General Research and Innovation) outlined key EU programmes available to support this, such as Horizon Europe.
 The HFPN has released a research agenda which defines priority areas that the EU should focus on. Find out more here.
Tangible action is needed from the European Commission and the European Heart Failure Mission Statement is an impactful resource that supports this.
Launching the Mission Statement, Dr Luis Filipe Pereira (President, Associação de Apoio aos Doentes com Insuficiência Cardíaca (AADIC); former Minister for Health, Portugal) highlighted that European Member States cannot overcome barriers to improving the lives of people with heart failure alone. Strength is formed in collaboration. The European Commission needs to engage and act now to address this serious and under-represented health issue; six priority actions to be taken by the European Commission are clearly outlined in the European Heart Failure Mission Statement, facilitating positive and impactful change.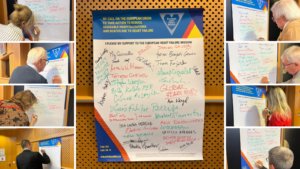 To accompany the main launch event, HFPN also organised individual meetings with 13 European policy stakeholders to strengthen political engagement with the Mission. HFPN members presented the Mission aims and discussed avenues for future collaboration to drive action on heart failure at EU and national levels.
To join the Mission to make heart failure a political priority in Europe, please email info@hfpolicynetwork.org