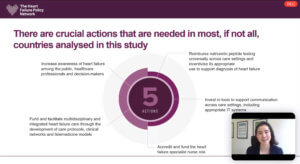 On 9 December 2020, Mr Billy Kelleher, Member of the European Parliament, and the Heart Failure Policy Network hosted a virtual policy round table following the launch of Heart failure policy and practice in Europe.
The event sought to identify a consensus on future opportunities for supportive heart failure policies from the European Union (EU) and the potential for actions in heart failure to contribute to the growing debate on cardiovascular disease policy.
The round table included presentations from leading figures in heart failure from across Europe, including a keynote address from Professor Giuseppe Rosano (President-Elect, Heart Failure Association of the European Society of Cardiology). The experts identified potential policy priorities that will lay the groundwork for an EU-level heart failure policy and advocacy strategy spanning 2021–23.
To find out more about the policy priorities and further details on the round table, download the full event report.